Quick Cooking Products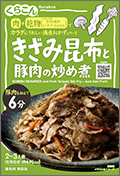 Our products offer an easy way for busy people to make traditional Japanese dishes. They consist of prepared ingredients and seasoning that can be quickly cooked.
Kombu rolls
Rolls of kombu with sweet soy sauce flavor. This is a traditional Japanese food with a long history. Each one handmade by a chef, a kombu roll is a piece of art that decorates a Japanese dinner table.
Dashi Kombu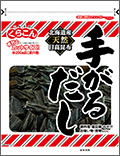 Natural kombu, simply cut and packaged. Placed in water (warm or cold) and taken out after a while, it makes a broth with a rich, natural flavor. It is used in most Japanese dishes to give them their underlying flavor.
Tororo Kombu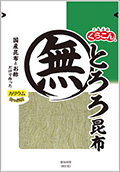 Sheets of kombu softened in vinegar, overlaid on top of each other, pressed, and shaved into thin fibers. They can be put in a soup or enjoyed with rice.
Seaweed Salad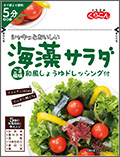 Seaweeds cut into small pieces and packaged. Seaweeds are rich in nutrients and contain minerals that humans cannot produce by themselves. Use as a salad.
Shio Kombu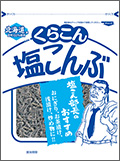 Thin strips of kombu simmered slowly with water, soy sauce and other seasonings, and sprinkled with salt and other flavorings. Shio kombu is often used as a filling for onigiri (rice balls), a popular Japanese food. It is also enjoyed with rice or used as seasoning.
Furikake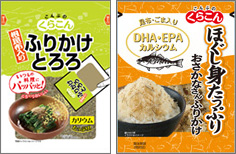 "Furikake" is a dry condiment to be sprinkled over rice. It is used to add flavor and nutrients to rice.
Tsukudani

Kombu cut into thin strips or small squares and cooked with sweet soy sauce flavoring, sometimes together with shiitake mushrooms, sesame or other ingredients. It is good to eat with rice.
Boiled Soybeans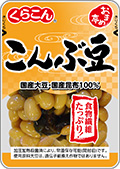 Soybeans cooked until soft and seasoned with soy sauce and other flavorings. They are eaten either as part of a meal or as a snack. Rich in nutrients, soybeans are attracting attention as a non-meat source of protein.
Hijiki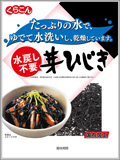 Hiziki, like kombu, is a type of seaweed. It is a healthy food rich in iron and calcium. Hiziki is usually cooked with soy sauce and other seasonings.
Gifts
Assorted kombu products for gifts. In Japan, kombu is considered an auspicious food. It is traditional to give kombu as a souvenir or a gift on happy occasions.